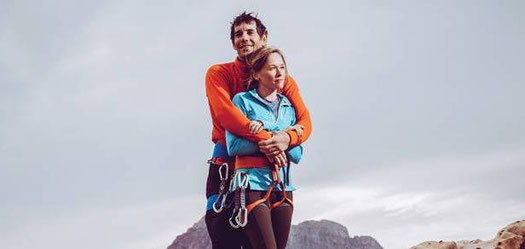 Quien ha dormido solo o sola en su furgoneta, en invierno, ha echado en falta más de una vez un abrazo térmico en forma de cucharita. Y es que una pareja escaladora es algo tan deseado como subir de grado. Así que si ya la tienes, cuídala, pero si no, aquí van unos consejos para tener tu compañero o compañera de cordada ideal. 
Piensa en que conseguir un cónyuge escalador es como hacerse con una furgoneta camper. Esta comparación, que iré desarrollando, te ayudará a clarificar y tomar las decisiones correctas. 
Lo primero es saber de qué punto partes, ¿tienes ya pareja?
CASO A. Tienes pareja, pero no escala. 

Sería comparable a "tienes ya un vehículo, pero sin camperizar". Esta situación, pese a que tienes logrado el 50%, es la peor. La gran mayoría de vehículos son turismos no camperizables y si el tuyo no lo está será porque no se puede. Si no ya estaría hecho.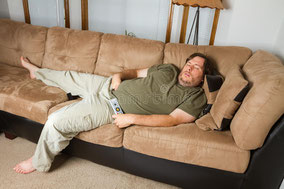 "A la mayoría de las personas no les gusta la escalada y la burundanga no sirve en estos casos"
Hay personas que pese a que nos cueste entenderlo, no les gustará la escalada, y la burundanga no sirve para el largo plazo. Lo más probable es que ya hayas intentado llevarlo o llevarla a escalar y no haya cuajado. Así que ponte a buscar furgonetas, no estires más la vida de tu actual relación o vehículo, no lo vas ni a cuidar ni disfrutar como se debe. Ve a hacer lo que tienes que hacer y pasa al CASO B
---
---
CASO B. No tienes pareja
Aquí se abren 2 caminos, cada cual debe elegir el que más le guste y en el que se sienta más cómodo.
CAMINO 1. Buscar una pareja entre el "pool" de escaladores / escaladoras.
Sería como comprar un vehículo ya camperizado de fábrica. Las ventajas son obvias, es el método más rápido y asegurado con el que estarás haciendo viajes con él o ella desde el primer día.
"Nunca serás la prioridad para otro escalador o escaladora"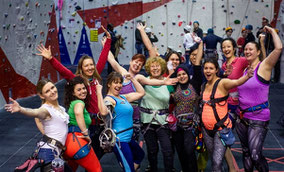 Si te has decidido por este método estas consignas pueden ayudarte: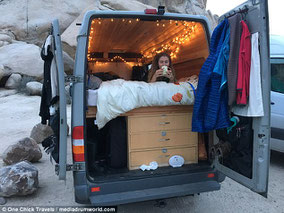 "Una furgoneta acogedora y con cervezas cuentan como preliminares"
Cuando vayas a escalar vístete bien con ropa limpia, aseate con regularidad y peinate. Sólo con eso ya estarás destacando frente al resto.
Evita las mallas, dan demasiados datos. El amor a veces consiste en ocultar lo mejor. 
Se social, ve a todos los eventos y fiestas de escalada. A Paquirrín le funciona en lo suyo. 
Si tienes furgoneta, tenla siempre limpia, ordenada, acogedora y con la nevera llena de cerveza. Tu ropa interior sucia puede estar en el suelo durante y después del coito, pero no antes.
Dedica al bar de escaladores más tiempo que a la propia escalada. Que viene a ser lo habitual en el colectivo. 
Pasa mucho tiempo en el rocódromo, el suficiente como para que la gente empiece a pensar que trabajas ahí. 
Lleva siempre magnesio, comida, cintas, caña, etc para compartir.
Ten un perro. Cubrirá tus carentes habilidades sociales.
---
Belay Glasses Model 3
Belay glasses LePirate Model 3 Rojo (Red)
Final price
Free shipping to the following countries: Afghanistan, Albania, Andorra, Angola, Anguilla, Antarctica, Antigua and Barbuda, Armenia, Netherlands Antilles, United Arab Emirates , Algeria, American Samoa, Argentina, Aruba, Australia, Austria, Azerbaijan, Bahamas, Bahrain, Bangladesh, Barbados, Belarus, Belgium, Belize, Benin, Bermuda, Bhutan, Bolivia, Bosnia and Herzegovina, Botswana, Bouvet Island, Brazil, British Indian Ocean Territory, British Virgin Islands, Brunei, Bulgaria, Burkina Faso, Burundi, Cambodia, Cameroon, Canada, Cape Verde, Cayman Islands, Central African Republic, Chad, Chile, China, Christmas Island, Cocos [Keeling] Islands, Colombia, Comoros, Congo - Brazzaville, Congo - Kinshasa, Cook Islands, Costa Rica, Côte d'Ivoire, Croatia, Cuba, Cyprus, Czech Republic, Denmark, Djibouti, Dominica, Dominican Republic, Ecuador, Egypt, El Salvador, Equatorial Guinea, Eritrea, Estonia, Ethiopia, Falkland Islands, Faroe Islands, Fiji, Finland, France, French Guiana, French Polynesia, French Southern Territories, Gabon, Gambia, Georgia, Germany, Ghana, Gibraltar, Greece, Greenland, Grenada, Guadeloupe, Guam, Guatemala, Guinea, Guinea-Bissau, Guyana, Haiti, Heard Island and McDonald Islands, Honduras, Hong Kong SAR China, Hungary, Iceland, India, Indonesia, Iran, Iraq, Ireland, Israel, Italy, Jamaica, Japan, Jordan, Kazakhstan, Kenya, Kiribati, Kuwait, Kyrgyzstan, Laos, Latvia, Lebanon, Lesotho, Liberia, Libya, Liechtenstein, Lithuania, Luxembourg, Macau SAR China, Macedonia, Madagascar, Malawi, Malaysia, Maldives, Mali, Malta, Marshall Islands, Martinique, Mauritania, Mauritius, Mayotte, Mexico, Micronesia, Moldova, Monaco, Mongolia, Montenegro, Montserrat, Morocco, Mozambique, Myanmar [Burma], Namibia, Nauru, Nepal, Netherlands, New Caledonia, New Zealand, Nicaragua, Niger, Nigeria, Niue, Norfolk Island, Northern Mariana Islands, North Korea, Norway, Oman, Pakistan, Palau, Palestinian Territories, Panama, Papua New Guinea, Paraguay, Peru, Philippines, Pitcairn Islands, Poland, Portugal, Puerto Rico, Qatar, Réunion, Romania, Russia, Rwanda, Saint Barthélemy, Saint Helena, Saint Kitts and Nevis, Saint Lucia, Saint Martin, Saint Pierre and Miquelon, Saint Vincent and the Grenadines, Samoa, San Marino, São Tomé and Príncipe, Saudi Arabia, Senegal, Serbia and Montenegro, Seychelles, Sierra Leone, Singapore, Slovakia, Slovenia, Solomon Islands, Somalia, South Africa, South Georgia and the South Sandwich Islands, South Korea, Spain, Sri Lanka, Sudan, Suriname, Svalbard and Jan Mayen, Swaziland, Sweden, Switzerland, Syria, Taiwan, Tajikistan, Tanzania, Thailand, Timor-Leste, Togo, Tokelau, Tonga, Trinidad and Tobago, Tunisia, Turkey, Turkmenistan, Turks and Caicos Islands, Tuvalu, Uganda, Ukraine, United Kingdom, United States, Uruguay, U.S. Minor Outlying Islands, U.S. Virgin Islands, Uzbekistan, Vanuatu, Vatican City, Venezuela, Vietnam, Wallis and Futuna, Western Sahara, Yemen, Zambia, Zimbabwe Show more Show less
---
CAMINO 2. Busca una pareja que aún no escale y transmítele tu pasión. 
Análogo a comprar un furgón y equiparlo tu mismo. Requiere elegir bien en un principio y poner mucha paciencia y dedicación en el proceso. De lo contrario cada viaje estará lleno de amargos inconvenientes.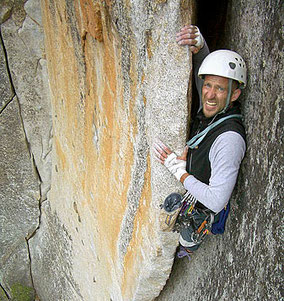 "Elimina parejas no compatibles llevándolas a una vía larga de fisuras, travesías, con roca descompuesta, etc"
Tiene la ventaja de que partes de un ser humano normal, sin todas las desventajas que se mencionan en el CAMINO 1 pero con el contra de que es muy probable que pese al trabajo y tiempo que le dediques, al final te quedes sin nada.
Para captar una pareja y llevarla al submundo de la escalada hay sólo dos métodos, el del ESCALICIDIO EUGENÉSICO y el de LA RANA que descienden de las vertientes filosóficas sobre si el escalador nace o se hace respectivamente. 
El método del ESCALICIDIO EUGENÉSICO consiste en llevar a tu potencial pareja a hacer una escalada clásica, haciendo vivac la noche antes a ser posible con mal tiempo, y eligiendo la vía con más chimeneas, fisuras y travesías que te sea posible. Tendrás que repetir este método con todas tus parejas potenciales hasta que una, tras esa experiencia, te siga hablando la cual será sin duda tu futura pareja de escalada. 
El método de la RANA en analogía al experimento de la rana en agua hirviendo, sería la contraria. Consiste básicamente en ir introduciendo la escalada poco a poco en nuestra pareja y elevando gradualmente su intensidad. Algunas claves son. 
Comienza por el mejor rocódromo de tu zona donde haya muchas vías y bloques con grandes presas y volúmenes. Solo si tu pareja viene de proyecto hombre, le gustará ese muro con piedras pegadas bajo un túnel al que vas. 
"¿Toxicómanos o escaladores reposando? En los túneles con presas es difícil ver la diferencia"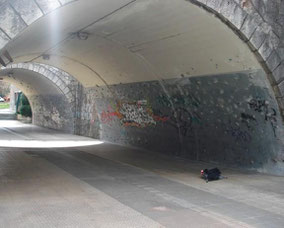 Combina el tiempo de tus primeras salidas a escalar con algo que le guste a el o ella. Piensa que comer, dormir y respirar se entienden más como necesidades básicas de tu pareja y no como "cosas que le gusta hacer" 
Si haces noche, no vivaqueis o durmáis en una furgoneta salvo que esta tenga calefacción, baño y ducha. El sexo tras varios días sin ducharse no tiene etiqueta en xvideos, y mira que en esas páginas hay imágenes que harían vomitar al mismo Torbe.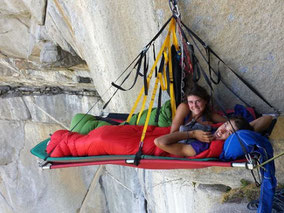 "Usa el aislamiento como técnica para de alienación mental"
Para más efectividad puedes añadir técnicas de alienación mental, tales como: 
Hacer ver que los escaladores somos una élite de "elegidos" y que él o ella ya pertenece a esa élite. Solo mentirías en lo segundo. 
Hazle amar a los líderes de la escalada (Ondra, Lynn Hill, Megos, Ashima,etc)
Aislamiento de sus amigos y familiares ocupando su tiempo libre con viajes a la roca. 
Si pese a aplicar estos métodos no logras tu objetivo consuélate pensando que una furgoneta camper no es sino una forma más cutre y (en muchos casos) más cara de viajar.